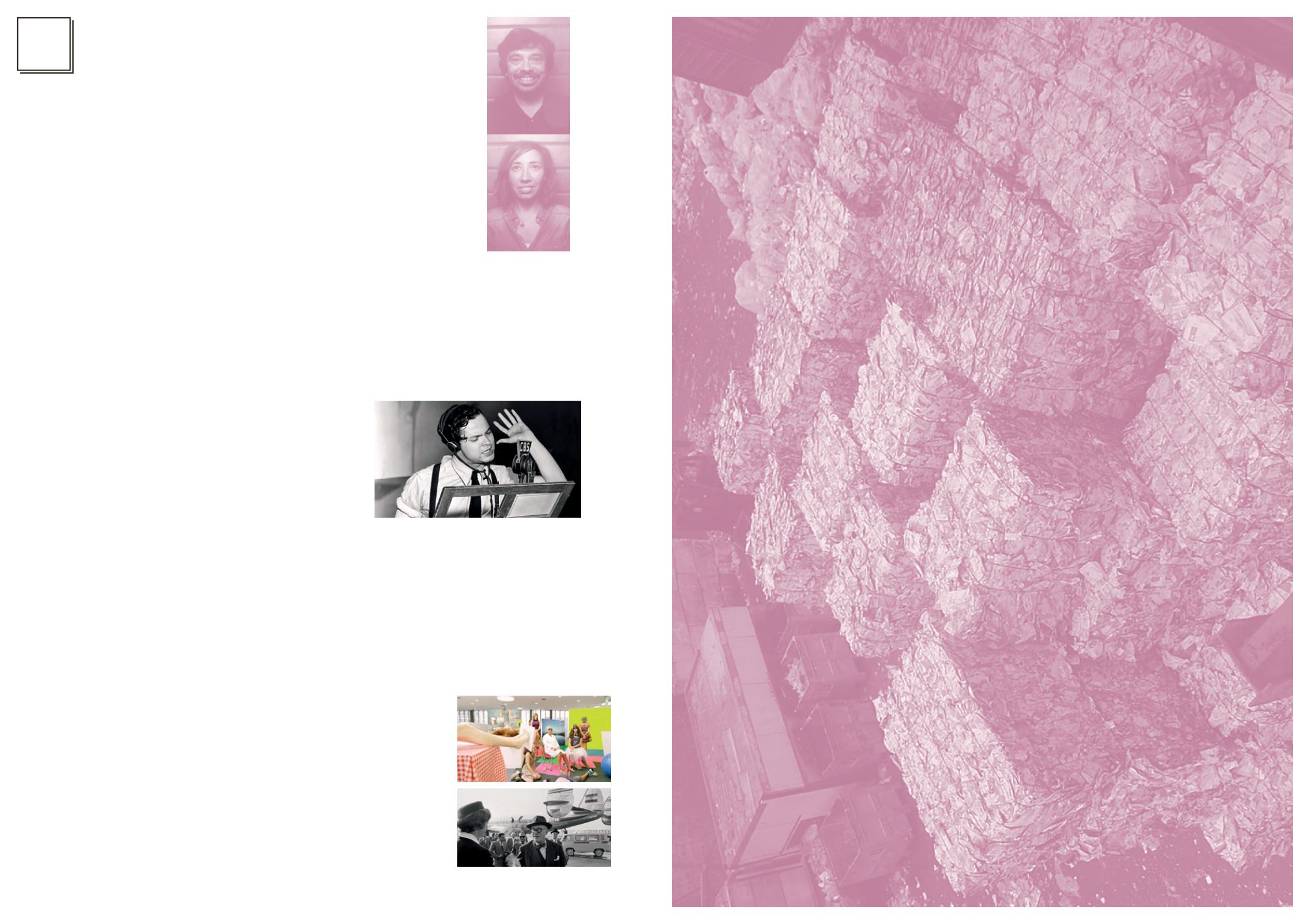 "Archomunicatio
n"
Richard Sennett says that public space is a place that
traditionally had been defined from its physical loca-
tion and therefore, disquisitions on space have been
linked to cities. Today, information technologies have
radically altered the sense of place: now the public
space is both the cyberspace and the physical place.
If the sense of place has evolved from the physical to
the virtual, then architecture will emerge on different
platforms such as video games. We are witnessing
therefore a constant relocation of the physical reality
of the city and the emergence of new scenarios of rela-
tionship between people. Reality and fiction, physical
and virtual... the current concepts that are confused in
the media.
We can state that the present city is largely the one we
perceive through the media. Everyone lives and steps
on certain part, but also have an unlived perception of
the globalism or specific parts that have never visited.
We want to explore whether the design and construc-
tion of communication of the city represents today a
new architecture of the
century.
With his radio drama,War of theWorlds, OrsonWelles
caused a mass panic in half the country for communi-
cating a false reality that many perceived as true. To-
day, the multiplicity of ways in which we receive infor-
mation do not allowus contrast their authenticity.
DANIEL MÒDOL DELTELL
Urban Architecture, Urban landscape
and Heritage in Barcelona City Council
/ Departament d'Urbanisme I
Ordenacio del Territori in ETSAB (UPC),
BCN / Studio: Daniel Modol
PATI NUÑEZ
Pati Nuñez Agency / Cultural Affairs
Bureau. 
Daniel Mòdol Deltell
(Lleida, 1972)
Councillor for Architecture, Urban
Landscape and Heritage at
Barcelona City Council and the Chair
of the Commission for Ecology,
Urban Planning and Mobility.
Graduate in architecture and urban
planning from the Barcelona School
of Architecture (ETSAB). Lecturer at
the Barcelona School of
Architecture's Department of Urban
Planning and Territorial
Organisation since 1998. Author of
various architectural, urban-
planning and public-space projects
in Barcelona, which notably include
the new layout for Plaça de les
Glòries, the Guineueta and Encants
markets and the urban
redevelopment of the Selva de Mar
area. He has combined his
professional activities with teaching
at an international level. Author of
various publications dealing with
Barcelona, including:
La Diagonal, un
procés urbà: el projecte urbà en la
reforma de la ciutat
and
Glòries,
reforma urbana i espai públic
. In 2014
he was chosen among 42 up-and-
coming architects worldwide and for
the ArchMarathon Awards for his
project:
The refurbishment and
extension of the Mercat de la Guineueta
in Barcelona
.
Pati Nuñez
(Barcelona, 1976)
Journalist, Curator and PR
Consultant. She is the Director of
Open House Madrid
festival of
architecture and CEO of PR Agency c
and Intelligence Analysis
Consultancy
Cultural Affairs Bureau
.
She co-curated the exhibition "The
Legacy of Coderch" and has
produced someart and architecture
films. Recently Pati Núñez has
published the book
Remembering
Coderch.
Pati Núñez acts as writer
and cultural critic in several
publications. She also teaches
courses about strategy,
communication and architecture.
Pati Núñez began her career as a
communication consultant working
withcultural institutions such as
"laCaixa" Foundation or the Mies van
der Rohe Foundation. Pati Núñez
has worked with prestigious
architects and artists and cultural
institutions.