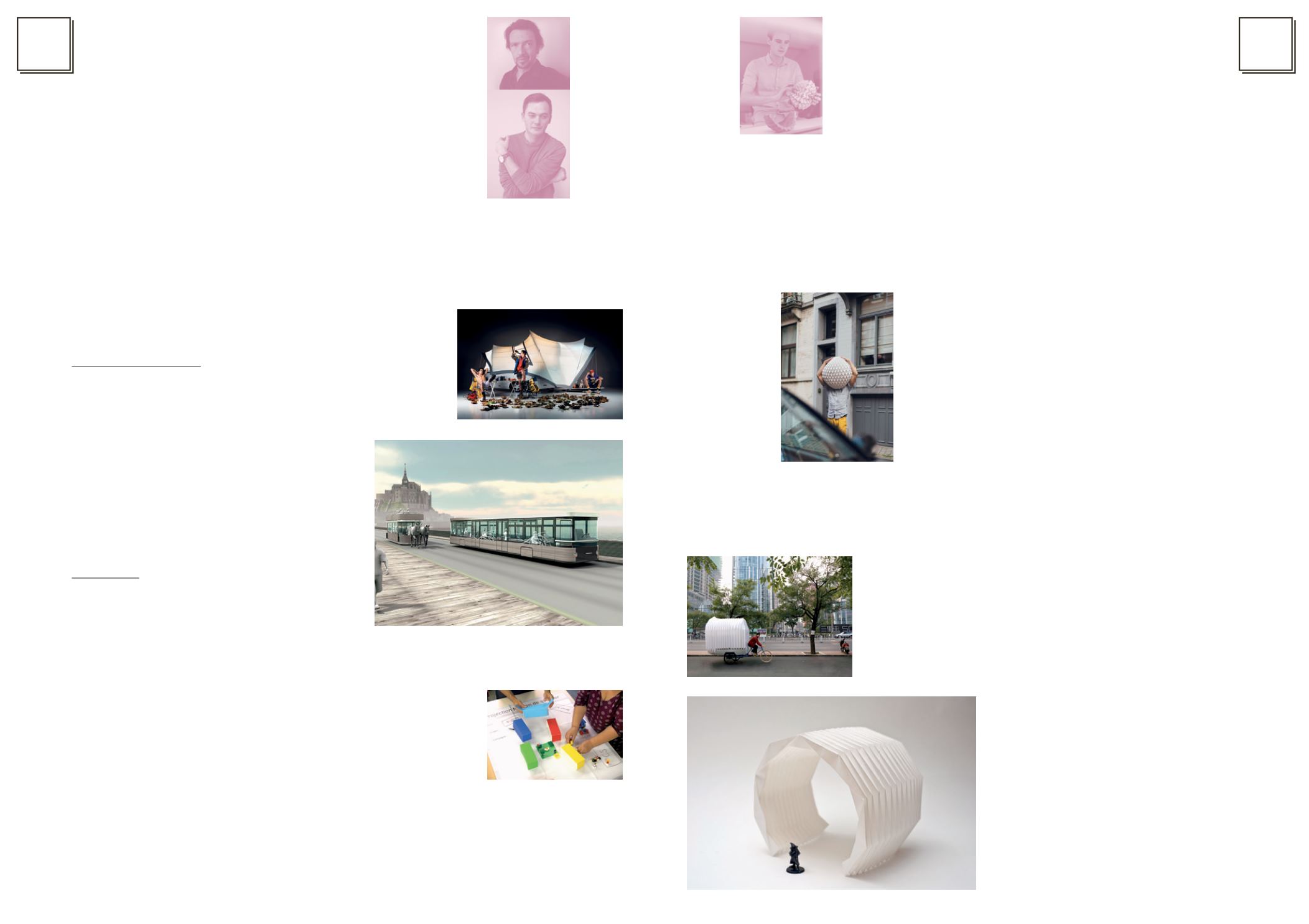 Make value frommoving people
Be
nefits fromdisplacement
Making value from moving people can be read in dif-
ferent ways and this exploration is the interesting pro-
cess which is the starting for the workshop. Every
product or service can only exist through a good busi-
ness model; out of this given we also see that innova-
tion is happening more regularly in business models
and that products change very little.
On the other hand we see products which are holistic
and create newmarkets, emotions and benefits but use
old business models. To combine this - with the fact
that large groups of people are in displacement (free
will or forced) - we would like to think about connect-
ing these 3 givens and look how to visioneer them.
Create a new product or product-service combination
that generates an added value for or by the people in
displacement.
Optional starting points
1. When it rains, it pours: creating solutions for nega-
tives during displacement
2. Integration through engagement; getting into a new
social comfort zone.
3. A state for the state-less: not having documents do
not make non-existing.
4. Amobile product/service solution: facilitate dis-
placement for all stakeholders.
5. The ventilator: sharing stress means reducing it.
6. Active on the move: solutions for the mobile/dis-
placed professional
7. Health and hygiene: education, monitoring and
control.
8. ...
Deliverables
Communicate your project in 3 slides:
Problem / Solution / Business model
Maxime Szyf
is designer since
childhood. After his studies Product
Development in Antwerp, he worked
at Samsonite Europe (Oudenaarde
Belgium) and Verhaert Design and
Development (Kruibeke Belgium),
before starting his own studio in
1998 in Antwerp. As creative partner
at YELLOW WINDOW
MAXIMALdesign, the studio is
commissioned to work on products
and services in very diverse
categories with DESIGN THINKING as
core expertise, with the user central.
We combine observation and co-
creation, analysis and creativity to
guarantee sustainable and
measurable ROI (return-on-
innovation) for the challenges of a
changing world
Pieter Martin
After finishing my
studies (2009) in Kortrijk as
Industrial product designer I started
an office as an independent
designer, where we worked for a
variety of small and medium sized
companies and organisations
(ELEVENFEET). Out of my search for
design methodologies and process
for our office I was asked by the
University college of West Flanders
to further research a study about
this matter and validate this study in
a business model. By 2014 I lectured
design and prototyping at the same
school and me and my business
partner moved to other goals. Early
2015 I started working for
MAXIMALdesign and made the
fusion to Yellow Window in the
summer of 2016 where I now pursue
my present goals.
"Home-less is
more"
Origami for temporary habitat
With a currently estimated 65 million displaced
people in the world (UN Refugee Agency, 2016), the
first generation of climatic refugees, and a wide ar-
ray of major crises showing no signs of abating, our
societies are under great pressure to provide tem-
porary shelter for entire populations on the move.
Where our building environment has been designed
for stable, permanent and solid structures, the need
for fast, cheap and transportable shelter is an issue
worthy of being addressed in our day and age. The
need for a roof over our head cannot be underesti-
mated. A shelter, a home, not only satisfies the basic
need for a secure place to live but also brings space
for intimacy and hope.
How can the ancestral art of origami bring a new
and fresh perspective in designing temporary shel-
ters?
Paper folding offers new dynamics to address the
growing displacement issue. Paper is cheap, renew-
able, and can be found anywhere. Folding as a con-
structionmethod is a quickway to design structures
that can be rapidly deployable and adapted to par-
ticular needs.
What are the homely needs of placeless people?
What materials are best suited for folding cheap
and lightweight structures? How will our "perma-
nent architecture" adapt to these transportable and
temporary shelters? How can one propose an up-
graded design based on existing ones?
DEWI BRUNET
Freelance artist / DewiOrigami
MAXIME SZYF
Yellow window
PIETER MARTIN
Yellow window
Dewi Brunet
is a trained urban
planner and an autodidact when it
comes to the arts of paper. For 10
years he interprets the traditional
and modern folding techniques in
his own way.
With the creations that he exposes,
the lectures and workshops that he
gives and the crafts that he sells, he
manages to make connections
between origami, design,
mathematics, botany, fashion and
architecture.
Convinced of the innovative
potential of folding, Dewi loves to
share his knowledge. To him it's the
best way to teach himself how to
take things even further and find
new applications for his talent.